This is the Judo blog of Lance Wicks. In this blog I cover mainly Judo and related topics. My Personal blog is over at
LanceWicks.com
where I cover more geeky topics. Please do leave comments on what you read or use the
Contact Me form
to send me an email with your thoughts and ideas.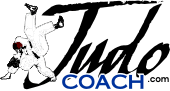 JudoCoach.com Blog by Lance Wicks
---
---
The video below is from the good folks at the University of Auckland Judo Club in my home New Zealand. It is the Final of a team event held recently.
I'd like you to watch it and post in the comments (or perhaps via email to
lw@judocoach.com
) your reactions to it.
Personally, I have to say that THIS is what Judo contests should be like. Everyone in that room is engaged and loving every second of the match. Obviously they are not following the IJF ruleset, else Ben would not be on with Alaister for a start. Also no safety area, but as I commented to someone only "who needs a safety area when you have spectators".
The match is hard fought and passions boil over at times. But it's compelling viewing and in the end the spirit of Judo is maintained is it not? The two players fight long and hard and everyone is mates afterwards. Beers I am sure were shared afterwards, and judging by the guy matside drinking, during too.
For me it was nice also to see so many old faces, another push for me to go home. :-)
But please watch and tell me what you think of the match. Is it "a disgrace" or "brilliant". is it "against the spirit" or is it the very "essence" of Judo?
Lance
Thanks to
www.judokong.com
for posting the video and having the most fun Judo blog online. :-)
Comments
---
Comments are not available for this entry.