This is the Judo blog of Lance Wicks. In this blog I cover mainly Judo and related topics. My Personal blog is over at
LanceWicks.com
where I cover more geeky topics. Please do leave comments on what you read or use the
Contact Me form
to send me an email with your thoughts and ideas.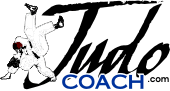 JudoCoach.com Blog by Lance Wicks
---
---
Hi everyone,
whilst here in the USA I have been fortunate enough to have had the opportunity to work with both Juniors and Seniors at OKCDT in Oklahoma City, USA (
http://www.okcdt.com
).
Below is a video of me working with the kids, if you have watched the clip I posted yesterday of me working with the adults, you will hopefully see that this is the exact same content.
What I tried to do was make it applicable to the juniors whilst retaining the core fundamental principles I was hoping to express. You be the judge.
The video below is also available at
http://www.ustream.tv/recorded/3857386
.
Once again, it was a pleasure and an honour to be invited to Oklahoma to celebrate the opening of OKCDT's amazing new Dojo. The chance to share some ideas with the kids and adults was a real privilege. The OKCDT members are amazingly welcoming and kind!
I will definitely be back!!
Lance
Comments
---
Comments are not available for this entry.