This is the Judo blog of Lance Wicks. In this blog I cover mainly Judo and related topics. My Personal blog is over at
LanceWicks.com
where I cover more geeky topics. Please do leave comments on what you read or use the
Contact Me form
to send me an email with your thoughts and ideas.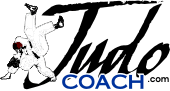 JudoCoach.com Blog by Lance Wicks
---
---
Hi all,

well in an attempt at some reflective practice I want to post a little about what happened in the sessions I took this week.

In the adult session at HMS Collingwood, we are working on a more sport oriented style of session (and coaching style). We are trying to work via playing rather than via learning technique.

By this I mean, I encourage more play of the game of Judo. I.e. Randori like practice, more larning by doing rather than by talk.

We started after the warm-up with ne-waza randori. Short repetitions, quickly rotating around the players on the mat. This was followed by drilling a basic ne-waza maneuver.

The technique we used is where your opponent is on all fours, you grab their wrist (threading your arm under their armpit between body and arm). You then rotate/spin around uke's head 270+ degrees, which allows you to bring the opponents elbow up.

After this we did this from a weak Ippon Seoi Nage attack as a transition from uke's attack. Once we got the hang of this exercise, we upped the realism and put a bit of movement and energy into the seoi and the application of the maneuver.

After this we returned to the floor and took the maneuver to the next stage, either turning uke over into a hold, or into a shime or kansetsu waza depending on the situation and of course peoples preference.

Next, we switched back upstairs and worked on finding the "sweet spot" in our Ippon Seoi Nage. By this I mean the ideal body position for you versus your partner. Which is different for each of us. I think everyone found the "sweet spot" and got the idea that in our training we want to identify the "sweet spot" and over time we will zero in on that place.

We then worked on our throw with movement as the precursor to the attack. First trying it lightly with traditional front, back (action, reaction) movement. But also exploring sideways and movement in other directions.

Then into Randori.

This is quite different to the kids sessions I took earlier in the week at Alresford Judo Club.

In that session, I was looking for a more "martial" aspect to the Judo classes. With both sessions I basically worked the same waza, O Soto Gari / O Soto Otoshi.

In the Junior session we played some games around the idea of playing with balance. Sumo whilst crouched and a game where each child holds one leg of the other. We also did an exercise where tori hooks on the O Soto Gari, both kids hop 3 times (Uke backwards), then tori throws/rolls uke over.

I also had them do very traditional uchi komi of O soto gari, rotating down the rows so that everyone did 5 uchi komi on each other person.

With the older kids, again it was only O Soto Gari.

What I was doing was trying to establish a little more "traditional" feel than adult session I took at the Navy.

It has been an interesting week of coaching, next week at Alresford Judo Club, Sensei Ray Whitfield will take the sessions (change is good, but consistency and comfortable style is really important too). I am looking forwarding to understanding the culture and style of the club and feeling out how I need to adapt.

The HMS Collingwood Judo Club will hopefully have some new players, attracted by the "freshers fair" held this week. Also, hopefully after a couple of weeks of training, the word is spreading to the other players hiding in the wood work that the club is back and the training is happening every Wednesday evening.

Looking forward to it.


Comments
---
Comments are not available for this entry.