This is the Judo blog of Lance Wicks. In this blog I cover mainly Judo and related topics. My Personal blog is over at
LanceWicks.com
where I cover more geeky topics. Please do leave comments on what you read or use the
Contact Me form
to send me an email with your thoughts and ideas.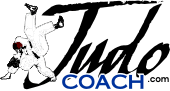 JudoCoach.com Blog by Lance Wicks
---
---
This weeks coaching summary will be a short one, mainly because only one of the clubs I coach at was on this week.
The Royal Navy Judo Club at HMS Collingwood did not have a session this Wednesday due to the building where we have been training being busy hosting a Boxing event.
Mondays sessions at Alresford Judo Club were good however. It was good to see a good number of kids in both sessions and to see them progress on from O Soto Gari/O Soto Toshi and try De Ashi Barai.
For those of you wondering about my odd selection of throws to use with young newbie Judo players, let me explain. UK based coaches won't be asking this question, as it has to do with the BJA (British Judo Association) Mon grade syllabus.
The "new" syllabus has these two throws at the beginning along with simple hold downs and (and I think this is important) transitioning between the throw and hold downs. The syllabus is the work of many people, but can i think be attributed to Mr. Andrew Moshanov.
The syllabus has been the subject of much debate here in the UK, and having listened and spoken with Mr. Moshanov about the syllabus I think I understand the intention behind it. And that sold it for me and I have to say that I have had positive feelings about it. De Ashi Barai I have found kids pick up pretty easily... if we don't impose our experienced adult perspectives on it being hard. I don't agree with all of it but thats just me.
The big issue with the syllabus now is that the Judo world has been rocked by the new IJF rules. The rules are designed to fundamentally change the way Judo is played, and makes me wonder if the syllabus now needs revisiting with this in mind.
Of course, it is early days, perhaps we should see how much (more) the IJF will back pedal and also how much Judo actually changes as a result of the rule changes. My suspicion is that as with all the changes of the rules in the past, these new ones may in the longer term have very little actual effect and the evolution of Judo may continue in the direction it was heading anyway. In which case, if we agree that the new syllabus was designed to prepare people for that direction; it remains valid.
I leave it to you to ponder all this, please do post your views in the comments or via email to
lw@judocoach.com
Comments
---
Comments are not available for this entry.