This is the Judo blog of Lance Wicks. In this blog I cover mainly Judo and related topics. My Personal blog is over at
LanceWicks.com
where I cover more geeky topics. Please do leave comments on what you read or use the
Contact Me form
to send me an email with your thoughts and ideas.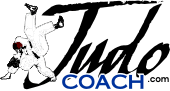 JudoCoach.com Blog by Lance Wicks
---
---
Hi,
this weekend I took my family to Bournemouth.
I noticed a bunch of "youth" hanging around near the pier. Which sadly, is not that unusual in most places. They just hang about on corners doing very little. They get bored and then, end up causing trouble, drinking, smoking, etc etc.
Not these kids though!
As I was wandering about I suddenly caught the sight of a young lad somersaulting off the walkway onto the sand. Then I saw some kids running up and flipping backwards off a wall. WHOAH!!! Way cool!!!!
On closer examination I noticed that some of these "kids" were wearing South Coast Parkour t-shirts.
Parkour or Free-Running, is getting quite big and originates I undetstand in the suburbs of Paris. It's now showing up in movies adverts, etc.
I was impressed tosee kids just playing as teens. Physically playing. Bleeding awesome! So rather than just standing about, these young people were playing and learning how to do excellent gymnastic feats!
I appreciate that much like skateboarding Parkour probably has a rubbish reputation and is bound to be hated by parish councils. BUT, I'd rather have the local kids in my neighbourhood doing something cool like Parkour, rather than hanging around on corners doing nothing!
Anyway... check our South Coast Parkours website:
http://www.scpk.info/
Enjoy!
<<First
<Back
| 70 | 71 | 72 | 73 | 74 | 75 | 76 | 77 | 78 | 79 |
Next>
Last>>