This is the Judo blog of Lance Wicks. In this blog I cover mainly Judo and related topics. My Personal blog is over at
LanceWicks.com
where I cover more geeky topics. Please do leave comments on what you read or use the
Contact Me form
to send me an email with your thoughts and ideas.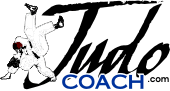 JudoCoach.com Blog by Lance Wicks
---
---
Hi all,
well the block is over except for two assignments that need completing over the next two weeks.

I'm really tired and happy to be home where I spent the afternoon with my twins.

Thursday was an interesting day, handed in my assignments then waited and waited to do my practical assessment coaching an Olympic Power Clean. Hopefully I did okay. :)

Thursday night saw the traditional official social, which was a buffet and a Karaoke. Not really my cup of tea, I am a dreadful singer and all too aware of it. It was rather quiet I have to say.

Not a lot on Friday morning, mainly people handing in their assignments and getting on the road. We did watch a little of the European Champs online however. The SMS payment method for the video stream didn't work sadly (at least in the UK).

The GB players all lost in the first round, which is a shame. Of course the course is quite international so some folk were still sitting with crossed fingers when I left.

All in all the block has been good, but not great like previous blocks. Struggling to know why it's been disappointing. I think it has been the series of niggles rather than anything being wrong particularly. Perhaps, it's just the nearing end of the degree getting us down a bit? Or perhaps it's because as new year students have started we (the first cohort) are getting less attention than we got in the past, perhaps we are less pampered? Lindsay who looked looked after us in the first year seemed to be at every lecture, everyday. This year we've been seen anyone except the lecturers themselves. I dunno, it may well be just that the workload has increased and we just plain have to work harder and as such the enjoyment has lowered.

I was really happy with one of my assignments this time, particularly because I expanded it to meet the word count. :)
I think it is probably the single most complete assignment I've done. I think all the referencing is well done and relevant, and that the idea I was trying to express got across and was worthwhile.

Anyway... I was happy with it.

So I have two more 1000 word assignments to get done in the next two weeks so shoulder to the grindstone!


<<First
<Back
| 67 | 68 | 69 | 70 | 71 | 72 | 73 | 74 | 75 | 76 |
Next>
Last>>