This is the Judo blog of Lance Wicks. In this blog I cover mainly Judo and related topics. My Personal blog is over at
LanceWicks.com
where I cover more geeky topics. Please do leave comments on what you read or use the
Contact Me form
to send me an email with your thoughts and ideas.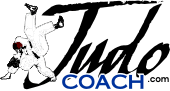 JudoCoach.com Blog by Lance Wicks
---
---
Saturday morning was a great for me, I coached a session for a friendship visit from a French Judo Club to two local English clubs.
Judo Club Audrieu
was visiting the
Gosport Judo Club
and
Holbrook Judo Club
s over near Portsmouth. (Last year these clubs visited them in France.
I was invited, to show something "a little different" and hopefully that was the result. I really enjoyed it, it was much bigger than I thought it would be 60 rather than maybe 20 people.
I did the now infamous "Boing Boing" warm up. I also included the
Dinky Do - Dinky Da Uchi Mata
and obviously lots of other stuff. Including the "mental" stuff around entering the mat area and so forth I did with the Navy all that time ago.
It was great fun with the youngsters, I enjoyed it more than you can imagine!
I've been invited to coach another guest visit in a couple weeks, also in Gosport. So hopefully that means I did a good job on Saturday, not just had a good time.
Anyway... Thanks to everyone who was there, and for being invited to coach, it was a pleasure!
<<First
<Back
| 65 | 66 | 67 | 68 | 69 | 70 | 71 | 72 | 73 | 74 |
Next>
Last>>