This is the Judo blog of Lance Wicks. In this blog I cover mainly Judo and related topics. My Personal blog is over at
LanceWicks.com
where I cover more geeky topics. Please do leave comments on what you read or use the
Contact Me form
to send me an email with your thoughts and ideas.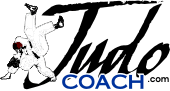 JudoCoach.com Blog by Lance Wicks
---
---
Hi everyone, ten weeks already!
So this week I started late, didn't get much done till Wednesday when I went along to HMS Sultan. Did a little Randori, but got to revisit the Nage No Kata with Pete. Nice to do the kata again, it has been a while, the last two sets were very blurry in my mind.

Thursday was a good session down at Gosport Judo Club. I enjoyed it, I really like it as a club, feels really good down there. Nice cosy club, permanent mat area too. Which is always a bonus and such a rarity here in the UK.

Then, this weekend, I attended a Judo camp with the great people from the Basingstoke club I have been attending the Paul Jones School of Judo. Each year they hold a camp in Weymouth (south coast of England) there were about 40 family's there from the club. Mums, dads, Brothers and Sisters, great!

The thing I really like about Paul's club is this sensation of it being one big Family. Talking to one of the seniors I train with there, he pointed out his kids who were on the mat. And he made the comment that except for me all the men in the senior session started after their kids started as Juniors.

Now that, if I was the coach there, would be the biggest compliment I could get!

It's not always about the medals and the latest techniques.
Sometimes it's about poeople being drawn into our Judo "family" like that.

Anyway... so the camp was mainly social, but I did two sessions and a football/soccer match. Wish I had skipped the football, firstly I am rubbish at football, and it shows why I stuck to Judo, I am shockingly bad!
The second reason is that one of my random tackles resulted in me being knee'd in the side of my left thigh pretty darn solidly. It was painful then and once I cooled down it ached and ached and ACHED! To the point I am walking with a limp.
It must be bruised I guess quite deep.

Ouch, everytime I bend my leg it hurts like nothing on earth! That was Saturday when I hurt it and it is Sunday night tonight, so it must be relatively solid by anyones standards. Blinking annoying as I suspect it will take most of the week to recover.

One thing i am noticing as I am going through this process of trying to be a player again after many years, is that things take a lot longer. Both positives and negatives, getting fit and losing weight takes longer than I imagined it would/should. And recovering takes much longer than I care to give it.

Adjusting to my... maturity is a key element in what I need to do. To date I have got it wrong, I initially started too hard, doing too much training and it only lasted about a Month before I gave out. I am just not capable of doing it yet, I need more time to coax my body (and mind) back into being where it needs to be.

The worst thing is that this is all subjective decision making.
I can't consult a table and say "right 34 years, you can do x hours of Judo and you'll recover in y hours/days". I have to try it and see. I think the last few weeks I have gone too far the other way, too little training, where as in the early weeks I did too much. So I am hoping to find a mid way over the next couple of weeks.

Of course, I have told players in the past even other coaches exactly this.
It is interesting though that I am struggling to get the balance right when I am both player and coach.

As coaches, we need to acknowledge that a) we might have the balance wrong for our players and b) the player may not be able to tell you until it hurts. I as a player am obviously not able to detect I am doing too much in time.
As a coach i am failing to observe my players condition and adjust appropriately.

It really does show the value of both roles.

Anyway... late Sunday night now and I need to get of to bed to get some recovery time in after an agonising drive back from Weymouth.

Good Night!

P.s. any one know about good Judo in Vietnam? I may be heading that way on business this month and would love the chance to train/coach anywhere whilst there!





<<First
<Back
| 54 | 55 | 56 | 57 | 58 | 59 | 60 | 61 | 62 | 63 |
Next>
Last>>