This is the Judo blog of Lance Wicks. In this blog I cover mainly Judo and related topics. My Personal blog is over at
LanceWicks.com
where I cover more geeky topics. Please do leave comments on what you read or use the
Contact Me form
to send me an email with your thoughts and ideas.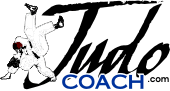 JudoCoach.com Blog by Lance Wicks
---
---
Hello everyone!
Hopefully there are a few more readers after my lecture today on coaching Digital Natives. But more on that later.
Today, we had two Judo practical sessions/lectures. One with Patrick Roux and one with Jane Bridge. Two people who I wish I could fight like they coach.
What they were trying to get across, in two separate and quite independent lessons, was simple, elegant and stylish Judo; all based on fundamental principles.
I think yesterday I wrote about how I enjoyed watching Patrick's Judo in Randori. Something that struck me today is that his Randori style is the same as what he is coaching/teaching. Which is less common than you think after you see such a good example of it. Patrick's session was very much about fundamental body movements and good posture. Things we talk about but he showed well and demonstrated even better in his Randori.
Jane's session. (Did I mention I really respect/admire Jane?). Working again on fundamentals, body movement and simple things. Footwork and posture, applied in the correct way to the correct situation. Specifically, sode tsurikomi ashi from heavy jigotai, both player pushing one another. Using good footwork and a good turn of the body to unbalance your opponent and throw them. IN THAT ORDER.
Both Jane and Patrick display and coach the sort of Judo I would like to do. More accurately, the sort of Judo I would have liked to do when I was young, lithe and supple. No really, there was once a time when that was at least mainly accurate. ;-)
I envy the players training in Bath. Between Jurgen, Patrick, Yuko and Jane they have the most amazing opportunity to train. Mike is doing a great job at creating an environment of excellence, the coaches and others involved in Bath are pretty darn impressive when you look at it from a more isolated view.
On that subject I am really chuffed that a fellow Kiwi is now training here in Bath whilst doing their PHD. The last time I saw them was in Derry at the Commonwealth's and the change is readily apparent, strides ahead of where they were IMHO.
We also had our second lecture with Lisa about planning. And planning here we are talking large scale performance plans, not athlete planning. The project/assignment we have to complete is a plan for a project. So we need to basically do a business plan for something Judo related. So pick a pet project and develop a professional plan to develop and deliver it. Harder than it looks and I must say, it really highlights how talented those people who do this in our sport are and how big a debt of gratitude we owe them.
The other lecture today, was my Keynote lecture on "Coaching Digital Natives". I think it went well and that people got something out of it. I am presently uploading the slides to
http://www.slideshare.net/lancew
and once it's been processed and I have checked with the Uni it is ok, I shall make it public. The slide deck ended up being 48MB, it's 12mb as a pdf without videos!! I tried to keep it pretty high tech given the topic and I hope people found it interesting and that they took something away that might help. A few people spoke tome afterwards about setting up blogs for their clubs and so forth, so that is great!
To everyone reading this who attended the lecture, please do email/comment and tell me how you found the lecture. As we all know feedback is key in learning, so let me know where I hit the mark and where I missed it. Tell me what bits you found most relevant.
To those same people, thanks for your attention and questions and comments, I am not a professional public speaker, but you were a good audience in my book.
I have to give a big thank you to
Alex
for his time last week helping me put this together. His IBM/Cisco corporate perspective/experience really helped me keep the presentation on subject and relevant I think, cheers mate!
As always, if anyone is looking at the Web and Judo, please let me know.
I am happy to help explain things, setup things, etc etc.
Okay... well till tomorrow !
Lance
P.s. presentation attendees, here is the link to our EJU Degree group on Facebook.
http://www.facebook.com/group.php?gid=2363576441
<<First
<Back
| 46 | 47 | 48 | 49 | 50 | 51 | 52 | 53 | 54 | 55 |
Next>
Last>>