This is the Judo blog of Lance Wicks. In this blog I cover mainly Judo and related topics. My Personal blog is over at
LanceWicks.com
where I cover more geeky topics. Please do leave comments on what you read or use the
Contact Me form
to send me an email with your thoughts and ideas.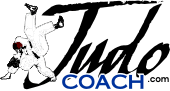 JudoCoach.com Blog by Lance Wicks
---
---
HIi everyone,
here are the slides from my KeyNote lecture on "Coaching Digital Natives" (March25, 2008). It was 48MB in total with videos etc. So this is the smaller PDF version via SlideShare.
The YouTube video of Katrina is here:
And here is the notated version from BubblePly:
*** Note: this site was down as I posted this blog.
Twitter is at
www.twitter.com
and my page on twitter is
http://twitter.com/lancew
Facebook is at
www.facebook.com
and I am at
http://www.facebook.com/profile.php?id=508090440
Try
www.WordPress.com
or
www.blogger.com
if you'd like to start a blog and if you do, please email me and I'll include it with the 50 or so other Judo blogs at
www.planetjudo.com
I'd appreciate your feedback.
Lance
*Updated March 26th 2008*
I realise I hadn't added the non Judo videos, here they are:
1. Blogs.
2. Twitter.
3. Social Networking.
And here are a couple that didn't make the slides...
RSS. Please consider adding RSS to your club site, even if you don't blog. It makes it really easy to access info about your club for cool things like mashups or aggregation like I do at
www.planetjudo.com
And finally this one...
Which was going to be the closing slide. :)
<<First
<Back
| 46 | 47 | 48 | 49 | 50 | 51 | 52 | 53 | 54 | 55 |
Next>
Last>>