This is the Judo blog of Lance Wicks. In this blog I cover mainly Judo and related topics. My Personal blog is over at
LanceWicks.com
where I cover more geeky topics. Please do leave comments on what you read or use the
Contact Me form
to send me an email with your thoughts and ideas.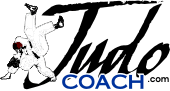 JudoCoach.com Blog by Lance Wicks
---
---
Something I read recently stated that you should exercise on a Monday. Mainly they were talking about how starting Monday as you'd like to proceed helps ensre you do what you should during the week.
Well, will Brussels quickly approaching, I took that to heart and drove over to University of Bath for the Monday night Randori. It started with a small warm up and then some ne-waza uchi komi followed by a little ne-waza randori.
There was some standing uchi komi and combinations work before the real order of business, the Randori, began in earnest.
I started and ended the night with Emmanuel Narty, which was a foolish and unwise decision!
Manny, is one of the fulltime athletes there at TeamBath and also a professional soldier. In fact the evening had a decidedly military feel as the British Combined Services Judo Team was there also. I spent some time on the mat with one of their -90kg players and we worked well together and had a good scrap in the Randori too.
The only down side to Bath, except turning purple from the exertion, is that it is a solid two hours away (ignoring the closed A36 road and the motorway offramp at my place being closed too), so it is a late night. :(
Mike, can't you move the City of Bath closer to my house?
Tomorrow (Tuesday), I shall be at the University of Reading Judo club, getting worked hard by Dave again. Wednesday is a light/non-judo day and I'll either sleep or more than likely go into the gym. Thursday is down to Gosport again and Friday shall be the Gym. Staurday is rest and Sunday
might
be Randori in Eastleigh... maybe.
Three late (like past 12 finishes) there, which is bad, but one thing I have on my side is a pretty strong ability to survive on limited sleep... at least for short periods.
In other news, I shall have to get some work on
www.planetjudo.com
done sharpish as the performance is rubbish, especially since my quick hack to get the RSS feed updaing again. People keep saying they visit it, and then I have to look sheepish and apologise for the perfomance! So, I have (on the way home from Bath) had a couple of ideas about how to get it performing better and will try and implement them sooner rather than later.
Anyway... 20 days till the world masters and despite having Ghana's finest work me over tonight I am feeling good. He may have killed me, but I was still fighting at the end...just! :-)
Lance.
<<First
<Back
| 42 | 43 | 44 | 45 | 46 | 47 | 48 | 49 | 50 | 51 |
Next>
Last>>