This is the Judo blog of Lance Wicks. In this blog I cover mainly Judo and related topics. My Personal blog is over at
LanceWicks.com
where I cover more geeky topics. Please do leave comments on what you read or use the
Contact Me form
to send me an email with your thoughts and ideas.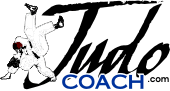 JudoCoach.com Blog by Lance Wicks
---
---
My fellow student at University of Bath, lecturer in Coaching Science, and coach at Comberton Judo Club, Bob has a terrific Judo coaching website which I recommend you check out.
http://coachingjudo.com/
I worry shall overcome my website in a very short period of time. :( Bob is a smart guy and he has started posting video of games and drills for Judo.
Just visit the site and click on "Games & Drills". He has done several videos recently on strength training for juniors, check them out. Once you have done that be sure to browse the site and read some of Bob's excellent work.
Lance
<<First
<Back
| 37 | 38 | 39 | 40 | 41 | 42 | 43 | 44 | 45 | 46 |
Next>
Last>>