This is the Judo blog of Lance Wicks. In this blog I cover mainly Judo and related topics. My Personal blog is over at
LanceWicks.com
where I cover more geeky topics. Please do leave comments on what you read or use the
Contact Me form
to send me an email with your thoughts and ideas.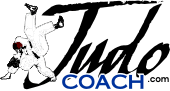 JudoCoach.com Blog by Lance Wicks
---
---
Nice short blog today, honest, so my pals upstairs can get on with their meeting. ;-)
So yeah, "World Judo Champion Week" ™ carries on along the same vein. The day started with a Dojo session with Kosei Inoue, as the good folks from Wolverhampton (http://aasejudo.wordpress.com/) put it, "Guess what throw we did today?" Yup, Uchi Mata!
Reviewing the photos confirmed what we saw, Kosei Inoue's Uchi Mata is pretty much identical each and everytime he does it. It is consistent, it is right, it is lovely and looks so easy. In gold they understand this, the idea that your swing should be identical everytime, you are aiming to get as close to "the perfect swing" as you can and to be able to repeat that swing over and over and over.
Inoue's Uchi Mata has that look about it. I suspect if we got the video analysis involved we could prove that his movement is the same everytime. He answered some questions about combinations and being countered and if I can sum up his answer it was/is "I Do Uchi Mata".
Meaning that if you do it right (i.e. good movement, kuzushi, etc) it will work. Obviously there is more to it than that, but it was clear that the opinion was, just get the throw right, don't worry about tricks too much.
For me the training session was made even better by getting some 1-1 coaching from another World Champion who I have liked since I met her, Loretta Cusack. She and Mike (www.simplyjudo.co.uk) started correcting some of the mistakes I was making.
As a black belt one of the things that happens often is people stop coaching you for some reason, perhaps manners. For me as someone who is not very good at "feeling" what I am doing wrong and thrives on verbal feedback, it was fantastic. It can be quite frustrating doing Judo and never getting any coaching, you make mistakes and have bad technique and people don't correct you. But you know you are doing something wrong, but need an outside perspective to describe it and correct it.
So to have some very accurate and perceptive feedback from Loretta and Mike was such a buzz. I came off the mat on a little bit of a high I confess. You would have too if you'd had just been on the mat learning from one World Judo Champion and getting personal coaching from another World Judo Champion. Those of you training with Loretta, count yourselves lucky! (And those with Mike too of course!)
The take away from Kosei's session might be perhaps that sporting cliché that the way to be great is to do the basics better than everyone else. Kosei Inoue's Uchi Mata is quite simply a wonderful plain simple Uchi Mata practised to perfection. For any players who might come across the post, if you want to be a great champion, you could do worse than to mimic Kosei Inoue and perfect your basic technique to a point it is better than the so call advanced stuff.
After the practical session I have to confess I went back to my room and had a siesta, which was much needed as I had stayed up too late the night before working, chatting, helping others, chatting, working and of course blogging. It was a bit of a worry to look at the time at 2am and realise I had to be on the mat first thing with Kosei Inoue!
After my refreshing Siesta I joined my colleagues in the University of Bath library and tried to continue making progress on my assignments for the rest of the day. I should mention at this point that it is pretty amazing to be able to ask the guy on the other side of the table you are sat at about how the Judo World Cups work and have them be able to answer accurately as they are one of the European Judo Union (EJU) Sports Directors, not to mention a British Olympic Association member and Chairman of the national governing body, cheers Densign!
Once again I have been struck by how easy it is to forget the calibre of those on the course with me. We were joking that we could almost write all our assignments just using conversation on the course as references. What is a better source of information on how the World Cup's work, than an EJU sports director?
Progress on assignments is slow but steady which is a good thing I guess.
This evening, I decided to have a play in the Randori session run by Juergen Klinger and of course with Kosei Inoue participating. Being the peak of fitness... not, I took it pretty sensible/easy. Which was good as it gave me time to observe and appreciate the work being done in Bath. It was a solid session with a consistently high work rate with good attack rates and throw rates.
The level in Bath (I think) is higher than when I first started there in 2005. The intensity of the training is higher and the technical level is higher too. I think last summer I commented on the shark like predatory nature of the players in Bath. Which I should add is a positive thing. They look for people to train with, Kosei was being asked to fight by all the players who should be asking the best player in the room. And they gave him stick! They were trying to compete with him, and not being scared of being dumped for 10 (or perhaps 11). Their ability to throw is constantly improving and physically they are fit and robust, able to work hard whilst maintaining technical ability.
Now I am back in my room, determined not to have yet another late night, and looking forward to another busy day in Bath. It is the second to last day and in ways the last "proper" day in Bath. Building up to Friday which is genuinely the last day of my time at Bath. I have no idea what I shall do not spending 4 weeks a year in this environment! I am already sad everytime I think about about not coming here and seeing the familiar faces and enjoying the debates and discussions with some of the top minds in Judo. I had a pang of jealousy today thinking of the first year students who shall be here when I am gone, they are so lucky and like I was in 2005, I doubt they appreciate the amazing thing they have engaged in.
The Foundation and Bsc courses are a unique and special opportunity for all of us lucky enough to have enrolled. You can't do this anywhere else in the world and it is an incredible educational opportunity both in terms of "Academic" learning and "Judo" learning.
One of the reasons I started this little blog way back in 2005 was because I wanted to capture for myself the university degree education experience my parents always told me I should get, and I the foolish young man I was did not pursue when I was younger. University of Bath and the EJU has given me the opportunity to achieve something that would make my late mother very proud I am sure, she supported my wanting to do Judo more than University, but in my heart I think I know that she wanted me to go to Uni. Mike Callan (via Joyce Malley) allowed me to actually fulfil my mum's dream and I am amazingly grateful for this, She missed seeing me start of complete this but I feel amazingly emotional as I write this and consider how she would feel about me sitting her today.
The other reason I decided to blog everyday I attended the FdSc and the Bsc was so that there would be a record of the course from a students perspective that would perhaps be useful to others considering attending the course(s). I have tried to share the experience "warts and all". Those of you who have followed the blog will know that sometimes I tear into the course (or elements of it at least), so I have not just been pumping out propaganda for the course. I suspect that I am in fact one of the loudest critics.
But...
I have a small sense of pride that I think I am in ways also the loudest voice singing the praises of the course too. I like to think that those who stumble across my posts understand the pros and cons of participating in something as long and challenging as the course(s). It has not been a easy process, I have made it harder of course at times by blogging and sharing my feelings positive and negative about the course, a wiser person perhaps would not have shared as much as I do, but that is not me, I am who am I am and as I state over and over, I "call them as I see them".
As this final block draws to a close and I shall soon leave and have to complete a stupid amount of words in a silly short amount of time, I feel the aggravation of my peers at the way things run sometimes. The disruptions we have had this block have been maddening! For the University to mess with our course work and our learning environment (Moodle) etc. like this is bordering on unbelievable, after 12 months working on a research assignment to have the goal posts moved as they have is a knightmare! To have the resources moved about randomly on the first day we arrived was insane, we've been here 5 years almost and the Uni thought they'd just change everything on the first day... cheers for that!
I feel the stress of knowing that I need to get good grades to try and crape into a "First", a "2-1" should be feasible, but I know that we are all trying to hit that 70% and get the first. Not helped by radical change, but as with every block and every year we shall perceiver and in the way of Judo, overcome! We are after all Judoka, we live and breath Judo, it is our lives.
After our session with Kosei Inoue, the nine of us who shall compete the BSc on July 1st posed for a photo with Kosei Inoue. I have spent 4 weeks every year since 2005 with these guys and it was an genuine honour to be part of the photo. That photo shall be framed and take a prominent place in my home where all visitors will see it, and I shall be able to with pride say who each of them was and how great an experience it has been to get to know them and share this experience with them.
Cheers Guys!
Lance.
P.s. You may notice that I am finding it harder and harder to restrain my introspective reflections on the course, please forgive my sentimentality, but this is an AMAZING course, one that has changed my life in ways that I can't express.
P.p.s. Sorry, I guess I failed to keep this short huh?!
<<First
<Back
| 23 | 24 | 25 | 26 | 27 | 28 | 29 | 30 | 31 | 32 |
Next>
Last>>