This is the Judo blog of Lance Wicks. In this blog I cover mainly Judo and related topics. My Personal blog is over at
LanceWicks.com
where I cover more geeky topics. Please do leave comments on what you read or use the
Contact Me form
to send me an email with your thoughts and ideas.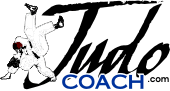 JudoCoach.com Blog by Lance Wicks
---
---
Last night, Sally & I attended the local karate class, Uechi-Ryu.

It was really interesting!
Uechi-Ryu is one of the only Karate styles that openly acknowledges it's Chinese origins. It would appear that the founder of Uechi-Ryu learnt some form of chinese "Kung Fu", in fact was I understand the first Japanese to teach Kung Fu inside China.

He then moved/returned to Okinawa where Uechi-Ryu has grown from. It is very interesting to watch and try. The style is very much an inside fighting style, with a very unusual stance and lots of circular movements, quite un Karate like.

As a Judoka and coach, I found the class very interesting.

A scary, but interesting section was the "Body conditioning". It started with a very Kung Fu-esque technique that looked a lot like "push hands". Then there was basically lots of hitting your partner.

No really!

Punching the stomach, hitting of forearms, hitting chest, legs.
Oddly, I though it was one of the better parts of the class. One of the attacks leveled at Karate and so forth, is that they never really hit anyone, all that pulling punches stuff.
It is very odd and quite an interesting process to both hit and be hit, balancing carefully how much you and your partner can take. As someone who has never really hit anyone, it was very odd to start with. I can see it as a really good exercise leading towards sparring. You really start to know how hard hurts.

A bit like Judo that you have to learn how hard you can throw or be thrown before it hurts.

All in all a very interesting evening, may well attend again next week.



<<First
<Back
| 73 | 74 | 75 | 76 | 77 | 78 | 79 | 80 | 81 | 82 |
Next>
Last>>