This is the Judo blog of Lance Wicks. In this blog I cover mainly Judo and related topics. My Personal blog is over at
LanceWicks.com
where I cover more geeky topics. Please do leave comments on what you read or use the
Contact Me form
to send me an email with your thoughts and ideas.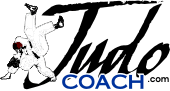 JudoCoach.com Blog by Lance Wicks
---
---
Regular readers will know that over the years I have developed a belief that in Judo we have many people
instructing
Judo and a much smaller number
coaching
Judo.
So today I thought I would highlight what my train of thought is by looking at an example... me. Why me, because this weekend I had a great experience of seeing coaching pay off.
The tale starts like this... in the previous Hampshire Team Championships, several members of the team submitted to strangles. So as the coach I watched in horror as matches were lost as they tapped out.
So for the past month or two at the club I have been doing regular drills around strangles. Mainly getting players to lie on their front and allow their partner to place their arm under their chin and around their throat. On Hajime, the person underneath must defend the strangle. We did several variations, such as quickly turning away from the strangle or popping the chin under the arm (read Dr Annmaria
HERE
for more thoughts on this ).
I did very little instructing on how to defend a strangle or even how to apply one. I was more basic, put them in the position and shout Hajime; then Matte. repeat, repeat, repeat and yes you guessed it repeat again.
This past weekend, the team again took to the mat and fought in the next round of the team championships. And not one of the players tapped out to a strangle. This despite several pretty good attempts by their opponents, purple abrasions galore afterwards.
But none of the people in my club got caught; the reaosn? Mainly they were comfortable knowing when they were in trouble. They knew the point where they were going to go to sleep. They knew how to defend via experiencing it in the club in training.
What I did not do was spend long periods of time showing variations and tricks around defending strangles. What I did was put the players in competitions, observe the players in action and identify areas needing improvement. Having identified areas I spoke to the players and then did specific training to address the weakness over a two month period or so.
The players learned in training and when they were attacked in the competition with strangles they had taught themselves what to do.
This is an example of coaching. I did not instruct the players what to do; rather put them in situations where they could learn for themselves. This is coaching for me. Using my eye, knowledge and experience I created a series of situations where players learnt.
I didi not instruct them on how to defend from position "X" or from specific strangulation techniques from books or form competitions. A majority of my exercises were just player one face down on their front with their partners arm under their chin holding the jacket on the far side. I just called Hajime, counted the time and called Matte, got them to swap over or swap partners and called Hajime again.
The result, the team learned how to defend a strangle.
Having watched this weekends action we have more to focus on and that is what the role of a coach is, to observe and adapt. To keep tuning the training to help the players get better and better week on week.
It is not my job to instruct them on how to do everything they need to do. I can not teach fast enough or well enough for this to work past the novice levels (if that).
I hope this little example helps to express what I mean when I argue about coaching versus instructing in a Judo context.
Let me know what you think.
Lance
<<First
<Back
| 7 | 8 | 9 | 10 | 11 | 12 | 13 | 14 | 15 | 16 |
Next>
Last>>