This is the Judo blog of Lance Wicks. In this blog I cover mainly Judo and related topics. My Personal blog is over at
LanceWicks.com
where I cover more geeky topics. Please do leave comments on what you read or use the
Contact Me form
to send me an email with your thoughts and ideas.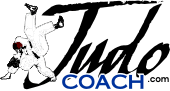 JudoCoach.com Blog by Lance Wicks
---
---
The second of my recent DVD purchases "Throw Down", is a Chinese action film, about, and I quote:

"Ex-judo champion Sze-to (Louis Koo) mysteriously retires from the sport and becomes a pub manager until "Leather Jacket" Tony (Aaron Kwok), a spirited judo fighter, revitalizes his fighting desires and challenges him to a match. But there's more to win than just the champion title;"
Directed by Johnnie To, it is a tribute to Akira Kurasawa, and specifically the Sanshiro Sugata films. Some of the scenes in fact arde virtually identical. One of the Dojo scenes and a fight out in a cane field for example.
One thing I really enjoyed were some training scenes, which were them throwing each other and smiling all the while. Which to me felt like Johnnie To understood a little about Judo.
Of course this is a Chinese film and is kinda weird, and theres lots of laughs at the not too flash Judo on display. But it is a film, suspend your disbelief okay! :-)
I enjoyed it, but I enjoy Chinese cinema and anything remotely linked to Judo. Also, owning both the Sanshiro Sugata films, I enjoyed the references. Lastly you do get to here a couple of versions of what must be the Judo song I have been told about but never really pinned down. Of course it's sung not in English, so it could be something completely different.
Anyway, I enjoyed it and recommend it. So far the only place I found it on the web is on
yesasia.com
. There is a trailer on that site, and their service to me here in the UK was great so given I've failed to find it on Amazon, give them a go.
Let me know if you have seen or do see the film.
<<First
<Back
| 83 | 84 | 85 | 86 | 87 | 88 | 89 | 90 | 91 | 92 |
Next>
Last>>