This is the Judo blog of Lance Wicks. In this blog I cover mainly Judo and related topics. My Personal blog is over at
LanceWicks.com
where I cover more geeky topics. Please do leave comments on what you read or use the
Contact Me form
to send me an email with your thoughts and ideas.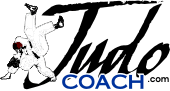 JudoCoach.com Blog by Lance Wicks
---
---
I am watching "
Mock the week
" a satirical pseudo news quiz show.
And I suspect it just made TV history.
Adam Hills
, an Australian comedian has just taken off his artificial foot and shown it to the cast and us the viewers. Not something you see from a TV celebrity very often.
I remember seeing and holding my first artificial limb (not mine you understand).
I was on a CAD (Coaching Athletes with Disabilities) course in Napier, New Zealand. On day two of the course, one of the instructors took off his leg and passed it around the room.
I had always considered myself "well adjusted" to disabilities. But it was in that moment I really realised that I was not. My whole view of the instructor changed, terrible I know, but it was what happened. That alone made the excellent course worthwhile, let alone all the other great stuff. It helped me realise that nobody is "well adjusted" unless they have been exposed to a disability. (if you follow my drift)
Adam has just stopped speaking about his foot and how he had one altered to wear a thong/flip flop/jandal. This was much like the excellent conversations I heard on that CAD course years ago, discussing the legs they had and how they had a running leg, swimming, etc. Sorta like how we able bodied folk might discuss running shoes or Judo Gi.
Oh it just gets better, Adam has just confessed to drinking beer from his artificial foot!!!! I love it when you get the real view of disability. The non-politically correct truth.
he is not "a poor disabled person', drinking a beer from your artificial foot, thats just a normal person. This show would be a great piece of viewing for all coaches working with disabled athletes and I suspect young males recently disabled, who could do with showing that being an amputee still allows you to be a nutter!
Cool!
<<First
<Back
| 83 | 84 | 85 | 86 | 87 | 88 | 89 | 90 | 91 | 92 |
Next>
Last>>