This is the Judo blog of Lance Wicks. In this blog I cover mainly Judo and related topics. My Personal blog is over at
LanceWicks.com
where I cover more geeky topics. Please do leave comments on what you read or use the
Contact Me form
to send me an email with your thoughts and ideas.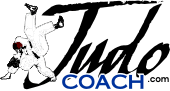 JudoCoach.com Blog by Lance Wicks
---
---
Well, this week I started upping the training load.
Monday I attended Paul's session and it was good, I did rather knacker my little toe which was, literally, a pain!

Wednesday, I did a 4 mile run (45 minutes), which was in the evening and in the rain. You might think that it was horrible, but I really enjoyed it. It's been a while since I've been running at night and t was really enjoyable. I felt strong all the way around, even on the uphills.

Thursday, I went down to Gosport Judo Club again and three of the crew from Paul Jones' Monday class came down from Basingstoke and did some training. It was terrific of them to come down, Paul suggested they come down on Monday and some did that was great of them.
It was in part a return trip as Pete came up to Paul's Monday class a couple of weeks back. It's one of the great things about Judo, the openess, I have never come across or heard of a club where you couldn't go along for a train.

Also... I don't think I ever trained somewhere where I didn't learn something. You can train with the absolute expert instructor on a specific technique for years and not "get it". Then do a single session training with someone else who through their unique way of doing things, you can suddenly get it.

The only downside to Thursday's session was that by a combination poor discilpline in terms of sleep and maybe the run the night before, I felt really tired.

I missed my Saturday run due being in London visiting a good Judo friend.

Anyway, as i said last week, I think the load has been too low, so this week I tried to add a midweek run and am hoping to stick to the Monday/Thursday Judo sessions as both are reasonably demanding physically. We'll see how it goes.

I'd just like to thank the guys from Basingstoke for coming down to Gosport, and to Gosport for making them welcome.

Till next time,

Lance.

<<First
<Back
| 53 | 54 | 55 | 56 | 57 | 58 | 59 | 60 | 61 | 62 |
Next>
Last>>