This is the Judo blog of Lance Wicks. In this blog I cover mainly Judo and related topics. My Personal blog is over at
LanceWicks.com
where I cover more geeky topics. Please do leave comments on what you read or use the
Contact Me form
to send me an email with your thoughts and ideas.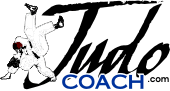 JudoCoach.com Blog by Lance Wicks
---
---
Today has been one of those days where other people have amazed me!
Within the space of a few short hours, Gene, Mike and Tris have published amazing works to the Judo community!
It started with
Tristan Greaves' terrific Blog post on the new rules being promoted by the IJF
. The post is a great balanced piece of writing about the rules that have been trialled recently. It is a great article and be sure to read the comment by Luke Preston from
Camberley Judo Club
too.
On my drive home from work I was fortunate enough to put on
Mike & Gene's terrific podcast titled "Judo is an Art"
. The show is a conversation with Justin Flores about art and Judo. It is an amazing listen and really struck a chord with me. They also discuss the new rules there.
The podcast is one of the highlights of the 47 episodes they have produced so far. I really felt in my heart much of what they talked about.
Gene's quote from his club information is amazing and really sums up well what being a Judoka is all about.
For me they also highlighted that sensation of getting Ippon, how that is art. How that is what makes Judo more than just sport. How even if you throw someone a million times, an Ippon is a unique creation that is beautiful and emotional and magical.
They also fitted those into competitive Judo and how the two are linked. They spoke about how the evolution of Judo styles is a differentiator and part of the allure of Judo. This merges with the discussion Tris starts about the rules, about if Judo is to be allowed to continue to evolve or if we force it into a shape through rule changes?
A great day for the Judo online community between these two.
It reminds me how great the online Judo community is and I am amazingly lucky to live in an age where I can have this interaction with people like Mike, Gene and Tris and learn more about Judo online.
So go listen/read and enjoy!
But before you go, here is a GREAT video by Mike and Gene's guest Justin Flores which I wanted to include because itis really great Judo art too.
Lance
<<First
<Back
| 18 | 19 | 20 | 21 | 22 | 23 | 24 | 25 | 26 | 27 |
Next>
Last>>