This is the Judo blog of Lance Wicks. In this blog I cover mainly Judo and related topics. My Personal blog is over at
LanceWicks.com
where I cover more geeky topics. Please do leave comments on what you read or use the
Contact Me form
to send me an email with your thoughts and ideas.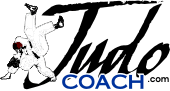 JudoCoach.com Blog by Lance Wicks
---
---
Hi all,
I have been a busy coach, I have been introducing kids to Judo at the Alresford Judo Club, Perins School and students at the Southampton Solent University Judo Club. And of course coaching the sailors at HMS Collingwood Judo Club.
It is fascinating coaching these different groups and seeing what works consistently across them all and those ideas and techniques that only seem to "take" with one or another group.
With the kids classes, I have taken half a term focussing (almost) solely on the BJA Mon grade syllabus and the requirements the kids needed to pass the informal grading we held on the last session before the half-term break. The Grading was attended by Keith Adams (BJA Hampshire County Chairman) who kindly came along and played the "bad cop" examiner.
With the university students I have been trying to cover a broad spectrum of Judo in the beginners session, so they have started with ne-waza, done some self-defence, learnt some throws and even explored elite Judo techniques.
With the Navy, most of the sessions have been performance specific. In that we are working on things the players themselves want to work on. We have worked on preparation for the Navy Champs and then looking at how they performed and doing sessions purely working on specific areas for each player.
Mixed in with all of this, I attended a UK Athletics course and I think gained a lot from being exposed to some new ideas from outside of Judo. I run a Running club (Well I founded one and technically run one), so I am hoping to further explore coaching by doing some more road running training and coaching and seeing how that affects me as a coach.
Over the past months, I have really tried to increase my time actually coaching. As
Bob
would put it, I needed to increase and improve my "craft". The EJU coaching courses, the blogging and the research has all improved my understanding and knowledge but actually coaching is improving my coaching craft and has been helping me develop.
I have been watching more and more high level Judo and deciding what I can show to the different groups I coach. I have also been involved more than ever before with the "Elite" level of Judo. Recently I was fortunate enough to be able to be a Matside coach at the GB World Cup and have been exploring the UK performance Judo world more than ever before in both theoretical and practical ways. This has been interesting and has highlighted that performance is all about the people and the systems, not about "secret sauce". You can have the best facilities, resources, budgets, ideas and still mess things up and a single person can be enough to make up for a complete lack of money, resources, facilities etc etc etc.
A highlight of recent months, was the opportunity to attend the Judo club of Karen Briggs MBE, 4x World Champion, 5X European Champion. I participated in a fantastic session at the club in Hull (here in the UK) and then sat down and recorded an interview with her for the
podcast
.
It was a great highlight to be able to talk with her and I was struck by the quality of the session she and her husband Peter put on and by her story of course.
In January, I hope to start on the
EJU Level 6 (Masters Degree) coaching qualification
. Which I am really looking forward to as I see it as a great opportunity to continue improving myself as a coach. The focus of this course is very different to the EJU 4 and 5 courses I have completed already and being in Rome not the UK it should be very interesting indeed.
All in all, I think my plans to increase the amount and type of coaching I do have been successful. I certainly am coaching more and am coaching a variety of sessions. This I hope is improving me as a coach, time will tell.
My view is that if you are going to try and improve athletes by coaching them, you have an obligation to try and improve yourself as a coach. This is the core reason why I have made myself go through the effort of doing the FdSc and BSc (EJU 4 & 5) and will be doing the Masters/level 6. The podcast, blogs and research are all for the same reason. My increase in coaching hours and (hopeful) improvement in my coaching craft I think is key if I am going to stand before any group of athletes and have a clear conscience when I coach them.
Anyway... this has been a bit of a personal reflection which I wanted to put out there as I strongly believe in "living out loud" and hope it is of interest to someone else out there perhaps. Maybe a coach or athlete who is curious about the inner machinations of a Judo coach. :-)
Lance
<<First
<Back
| 12 | 13 | 14 | 15 | 16 | 17 | 18 | 19 | 20 | 21 |
Next>
Last>>