This is the Judo blog of Lance Wicks. In this blog I cover mainly Judo and related topics. My Personal blog is over at
LanceWicks.com
where I cover more geeky topics. Please do leave comments on what you read or use the
Contact Me form
to send me an email with your thoughts and ideas.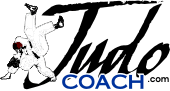 JudoCoach.com Blog by Lance Wicks
---
---
Okay,
the ongoing saga of my weight has reached epic proportions.
I am now literally heavier than I have ever been in my life!
This is the product of decreasing exercise primarily, along with probably too little effort in the diet department.
As some will be aware this is not the first time I've "billowed", kids soak up all my time and energy and exercise goes out the window. I've been running, okay not lately, but I
WAS
running shall we say. The last few months I have been trying to get back into shape, but the past say month, it's all gone pear-shaped. (much like myself)
I also feel like a fat B'stard, if you know what I mean. Lack of energy, not getting things done, etc etc.
So...
A pre-emptive new years resolution, to lose weight.
But how...
I'm working on it, but I am going to try this site called traineo, web 2.0-tastic. I've been using Joes Goals and this has the same concept but specific to weight.
Anyway...
Heres a button that takes you to the site and also shares some "info" about my blubber status!
Aparently you can sign up as a "motivator", which I think means you get updates on how I am doing and easy ways to shout at me (virtually at least).
So, two things, do take a look at the site and tell me what you know, and B) be a motivator!
<<First
<Back
| 78 | 79 | 80 | 81 | 82 | 83 | 84 | 85 | 86 | 87 |
Next>
Last>>